Javier Pajares Gutiérrez
Director INSISOC – Professor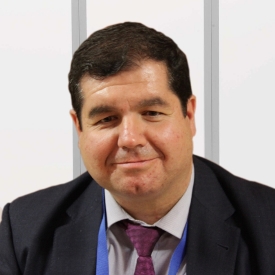 Address:
Escuela de Ingenierías Industriales
Universidad de Valladolid
Paseo del Cauce, 59
47011 – Valladolid, Spain
E-mail: pajares@eii.uva.es
Director of INSISOC, a Research Group certified as: GIR UVa, GREX251, UIC086
Link to Google Scholar Javier Pajares
Research Gate: Javier_Pajares
Professional Certification: Certified Project Manager – IPMA-C, IPMA.  Senior Assessor
ORCID: 0000-0002-4748-2946
Scopus Author ID: 7005557506
---
Short CV:
Javier Pajares is a Professor and researcher at the University of Valladolid. I focus my research and teaching activities on Project Management and Innovation Management. Doctor in Industrial Engineering (University of the Basque Country) and Industrial Engineer (University of Valladolid). My research and knowledge transfer activities are carried out within the INSISOC Research Group (INSISOC).
My scientific publications focus on methodological innovations related to project control and risk management. Currently, I am especially interested in the professional competences for managing the projects of the Digital Revolution and in the development of new methodological approaches for managing projects complexity. I have participated as director or researcher in numerous R&D projects with European, national and regional funding, as well as projects with private funding in the fields of project management, mainly within technology companies.
I have also participated in the translation of the PM2 guide, the Project Management methodology developed by the Europan Commission) into Spanish and I am vice-president of the "Academic & Universities Advisory Committee​" of PM2 Alliance. I belong to the Steering Committe of AEIPRO-IPMA SPAIN (Asociación Española de Dirección e Ingeniería de Proyectos) the Spanish partner of  IPMA (International Project Management Association)
Selected Publications:
Pajares J., Poza D., Villafañez F., López-Paredes A. (2017) Project Management Methodologies in the Fourth Technological Revolution. In: Hernández C. (eds) Advances in Management Engineering. Lecture Notes in Management and Industrial Engineering. Springer, Cham. https://doi.org/10.1007/978-3-319-55889-9_7
Acebes-Senovilla, F.; Pajares-Gutiérrez, J.; Galán, J.M.; López-Paredes, A., (2014). A new approach for project control under uncertainty. Going back to the basics. International Journal of Project Management, 32-3, pp.: 423-434. Elsevier. ISSN: 0263-7863. https://doi.org/10.1016/j.ijproman.2013.08.003
Hermano, V.; López-Paredes, A.; Martín-Cruz, N.; Pajares, J., (2013). How to manage international development (ID) projects successfully. Is the PMD Pro1 Guide going to the right direction?. International Journal of Project Management, 31-1, pp.: 22-30. Elsevier. ISSN: 0263-7863. https://doi.org/10.1016/j.ijproman.2012.07.004
Pajares, J.; López-Paredes, A., (2011). An extension of the EVM analysis for project monitoring: The Cost Control Index and the Schedule Control Index. International Journal of Project Management, 29-5, pp.: 615-621. Elsevier. ISSN: 0263-7863. https://doi.org/10.1016/j.ijproman.2010.04.005
Arauzo, J.A.; Pajares, J.; López-Paredes, A., (2010). Simulating the dynamic scheduling of Project portfolios. Simulation Modelling Practice and Theory, 18-10, pp.: 1428-1441. Elsevier. ISSN: 1569-190X. https://doi.org/10.1016/j.simpat.2010.04.008
Pajares, J., Lopez-Paredes, A., & Hernandez, C. (2016). Technology start-up firms as a portfolio of projects: The case of DIMA 3D. Procedia-Social and Behavioral Sciences, 226, 59-66.
Pajares, J.; Hernández, C.; López-Paredes, A., (2004). Modelling Learning and R&D in innovative environments: A cognitive multi-agent approach. JASSS – The Journal of Artificial Societies and Social Simulation, 7-2-7. University of Surrey. ISSN: 1460-7425. http://jasss.soc.surrey.ac.uk/7/2/7.html
Pajares, J.; López, A.; Hernández, C., (2003). Industry as an organisation of agents: Innovation and R&D management. JASSS – Journal of Artificial Societies and Social Simulation, 6-2. http://jasss.soc.surrey.ac.uk/6/2/7.html
---
Address:
Escuela de Ingenierías Industriales
Universidad de Valladolid
Paseo del Cauce, 59
47011 – Valladolid, Spain
E-mail: pajares@eii.uva.es