José Manuel González Varona
Associate Lecturer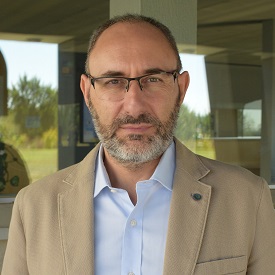 Address:
Edificio de Investigación UVainnova – I+D
Campus Miguel Delibes
Universidad de Valladolid
Paseo de Belén, 11
47011 – Valladolid, Spain
E-mail:   josemanuel.gonzalez.varona@uva.es
Associate Lecturer at INSISOC, a Research Institute certified as: GIR UVa, GREX251, UIC086
Link to Google Scholar José M. González-Varona
Research Gate:  José Manuel González Varona
Member of: ADINGOR, AEIPRO and PMI
Professional Accreditation: Certified Project Management Associate – IPMA Level D (ID SP.12.D.426)
ORCID:  0000-0003-2231-4572
Linkedin: www.linkedin.com/in/josemanuelgonzalezvarona
Scopus Author ID: 57216769889
Researcher ID: 3449779
---
Short CV:
José Manuel González Varona is Associate Lecturer at the University of Valladolid (Spain). He graduated in economics from the University of Oviedo and obtained his PhD in 2021 on organizational competence for digital transformation applied to the challenges for the digital transformation of SMEs, in the University of Valladolid. He is master in Project Management from the University of Valladolid and senior technician in occupational risk prevention from the Illustrious National College of Doctors and Graduates in Political Science and Sociology. Circular economy and technological innovation ambassador of the Advanced Leadership Foundation. In addition, he is digital transformation and circular economy consultant at CGProtec, also CEO at business project management solutions and technologies (BPMSat). His research interests within the INSISOC group include digital transformation and strategy, organizational competence and circular economy.
---
Selected Publications:
González-Varona J. M.; Poza D.; Acebes F.; Villafáñez F.; Pajares J.; López-Paredes A. (2020). New Business Models for Sustainable Spare Parts Logistics: A Case Study. Sustainability (Switzerland). Multidisciplinary Digital Publishing Institute, 12(8), p. 3071. DOI: 10.3390/SU12083071.
González-Varona J.M.; López-Paredes A.; Poza D.; Acebes F. (2021). Building and development of an organizational competence for digital transformation in SMEs. Journal of Industrial Engineering and Management 14 (1), 15-24. DOI: 10.3926/jiem.3279
González-Varona J.M.; Poza D.; Acebes F.; Villafáñez F.; Redondo A. (2020). Reusing Newspaper Kiosks for Last-Mile Delivery in Urban Areas. Sustainability (Switzerland). Multidisciplinary Digital Publishing Institute, 12 (22), 9770. DOI: 10.3390/su12229770
González-Varona J.M.; López-Paredes A.; Pajares J.; Acebes F.; Villafáñez F. (2020). Applicability of Business Intelligence Maturity Models to SMEs. Dirección y Organización, 71, 31-45. DOI: 10.37610/dyo.v0i71.577
González-Varona J.M.; Acebes F.; López-Paredes A.; Poza D. (2020). Fostering Digital Growth in SMEs: Organizational Competence for Digital Transformation. IFIP International Federation for Information Processing. Published by Springer Nature Switzerland AG 2020 L. M. Camarinha-Matos et al. (Eds.): PRO-VE 2020, IFIP AICT 598, pp. 237–248, 2020. DOI: 10.1007/978-3-030-62412-5_20
Acebes F.; Pajares J.; González-Varona J.M.; López-Paredes A. (2021). Project risk management from the bottom- up: Activity Risk Index. Central European Journal of Operations Research. Springer-Verlag GmbH Germany, part of Springer Nature, 29 (4), 1375-1396. DOI: 10.1007/s10100-020-00703-8
Acebes F.; Poza D.; González-Varona J.M.; Pajares J.; López-Paredes A. (2021). On the project risk baseline: Integrating aleatory uncertainty into project scheduling. Computers & Industrial Engineering. Published by Elsevier Ltd. 160, 107537. DOI: 10.1016/j.cie.2021.107537
Acebes F.; Poza D.; González-Varona J.M.; López-Paredes A. (2021). Stochastic Earned Duration Analysis for Project Schedule Management. Engineering. Published by Elsevier LTD. DOI: 10.1016/j.eng.2021.07.019
De Antón J.; Senovilla J.; González-Varona J.M.; Acebes F.; Pajares J. (2020). Production planning in 3D Printing factories. International Journal of Production Management and Engineering, 8 (2), 75-86. DOI: 10.4995/ijpme.2020.12944
---
Address:
Edificio de Investigación UVainnova – I+D
Campus Miguel Delibes
Universidad de Valladolid
Paseo de Belén, 11
47011 – Valladolid, Spain
E-mail:   josemanuel.gonzalez.varona@uva.es